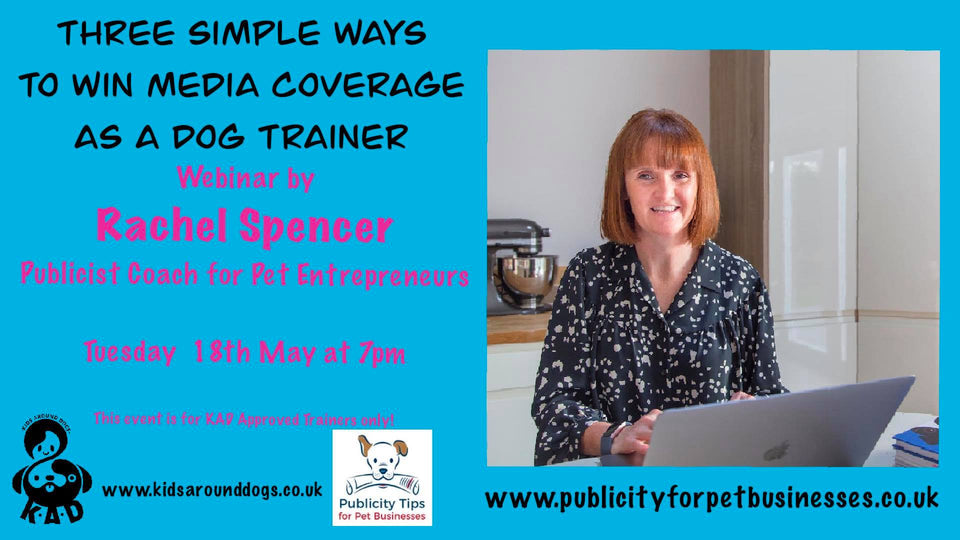 Three Simple Way To Win A Media Coverage As A Dog Trainer
Workshop Description:
Ever wondered how to be featured in a magazine or a newspaper?
The amazing Rachel Spencer will show us 3 techniques to get us and our business to be noticed!
About Rachel:
Rachel Spencer is a freelance journalist and writes about the pet industry for national newspapers and magazines focusing on human interest stories, health, trends and technology.
She works with pet business owners helping them raise their profile in the media and clients have appeared in the Telegraph, Guardian, Independent, BBC Breakfast, Mail Online, Daily and Sunday Express, and a host of pet titles like Edition Dog, Your Dog, Your Cat and industry titles including Pet Gazette and Pet Business World.
Each week she shares tips on how small businesses can secure coverage on the Publicity for Pet Businesses podcast.
Rachel is also the founder of the Paw Post Pet Blog set up in 2017 to celebrate amazing animals and people doing extraordinary things to help them.
The blog featured in the Vuelio Top 10 UK Pet Blogs 2017 to 2020 and is currently number 4 and is ranked at No 7 on Feedspot's Best Pet Blogs.
Rachel provides coaching services and runs a membership programme helping pet businesses stand out from the competition.