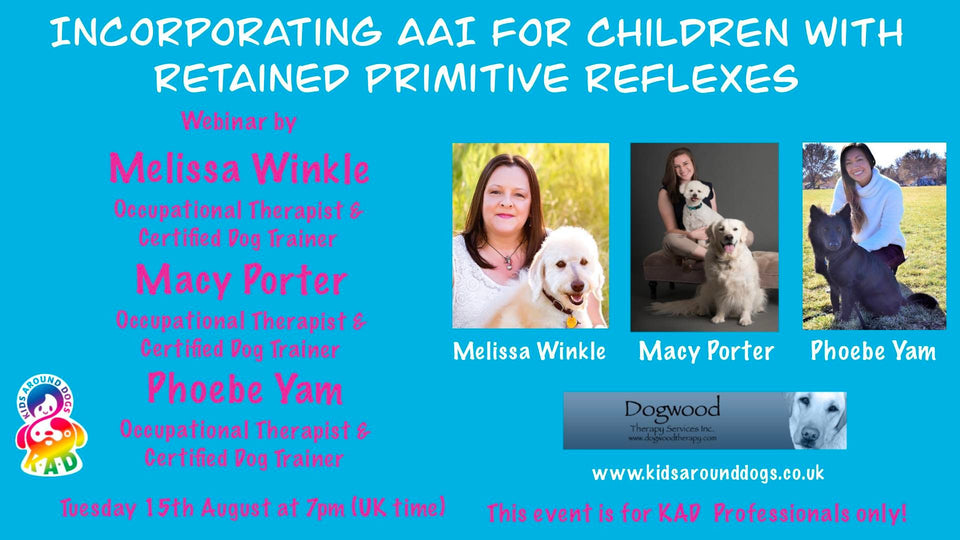 Incorporating AAI for children with retained primitive reflexes
Incorporating AAI for children with retained primitive reflexes.

About the presenters:
Melissa Y. Winkle OTR/L, FAOTA, CPDT-KA, C-HAIS is an Occupational Therapist & Certified Professional
Dog Trainer. She is President of Dogwood Therapy Services and Animal Assisted Intervention
International. Melissa is adjunct faculty, clinical instructor, and designs and develops AAI and human-
dog coaching instruction for several organizations, through her private practice and training facility, and
several universities including the University of North Florida, Human-Animal Intervention and
Interaction Certificate Program. She is a practitioner, a research team member, an author, a consultant,
mentor, and speaks internationally about disability, integrated & community-based program
development, animal assisted interventions, and service dogs. Melissa offers theoretical and hands-on
internships, coursework and consulting for animal-assisted services and interactions including program
development, human-dog coaching, continuing education and professional development, and
evaluation.

Macy Porter, OTR/L, CPDT-KA, C-AAIS is an occupational therapist, a yoga instructor and certified
professional dog trainer. She completed 4 years of training, internship, and employment at Dogwood
Therapy Services for animal-assisted occupational therapy. Macy completed the Certified Animal-
Assisted Intervention Specialist exam through Association of Animal-Assisted Intervention Professionals.
Macy has co-authored and edited several publications including research, books, continuing education
webinars, and is in the midst of developing her own an AAT program in a pediatric private practice.

Phoebe Yam, OTD, OTR/L, CPDT-KA, C-HAIS is an occupational therapist and Certified Professional Dog
Trainer. She has completed 2 years of supervised internship, training, and employment for animal-
assisted occupational therapy and ongoing mentoring and collaboration with Dogwood Therapy
Services. She has earned a competency-based certificate in animal-assisted Interventions and
Interactions. Phoebe is administrator and coordinator at Animal Assisted Intervention International, a
guest lecturer for University of North Florida's Animal Assisted Interventions and Interactions Certificate
Program.  Phoebe's work in AAIs includes practitioner, author, lecturer, intermediate mentor, AAI
program development,  and curriculum development and delivery.