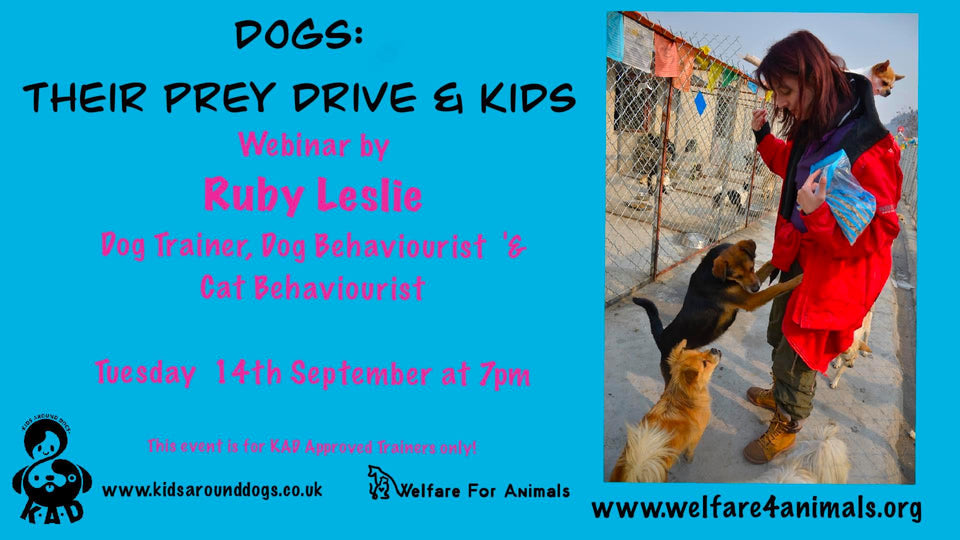 Dogs: Prey Drive & Kids
Webinar Description:
Dogs are companion animals who share our homes with us, but they are also predators with an instinctive prey drive that can easily be activated when they see fast movements and high pitched voices, similar to how prey moves and vocalizes when injured. This is also often how children move, especially when they're playing.
All dogs have prey drives, but for some dogs it is more easily activated than others due to genetics, learning history and breed characteristics.

To prevent dog bites, we need to discuss dog-child safety around dogs of all breeds and how to manage their prey drive when around children.
About Ruby:
Ruby Leslie is the founder of Welfare For Animals (WFA), a positive reinforcement, reward based, force-free dog training and animal welfare business based in Calgary, Alberta Canada. Prior to January 2019, she lived and ran WFA in Chengdu, Sichuan, China for 8 years.
The aim of her work is to train the trainer, veterinarian & animal professionals, shelter welfare and private consultation dog training. She has over 10 years of international experience in dog training and animal welfare focused on Canada, UK, Thailand and China. Ruby is a Fear Free and Low Stress Handling Silver Level Certified Professional, a member of the 9 different international positive reinforcement dog training organizations such as International Companion Animal Network (ICAN) The Association of INTODogs, and Alberta Force Free Association. Ruby is also the Social Media Manager for ICAN.
She has over numerous certifications in; shelter welfare, animal behaviour and welfare, animal behaviour, dog cognition, enrichment, canine behaviour and positive reinforcement dog training. On a consistent basis she attends international training conferences, webinars and seminars for veterinary care, dog training, canine and feline behaviour.
As well, she is currently working on her Advanced Canine Behaviour Diploma with The International School of Canine Psychology (ISCP).